FT Xilinx Solutions and Investments
In this blog entry I would like to discuss one of the more focused product ranges Force offers solutions to as well as explore a case study. Whilst we provide a wide offering of semiconductor solutions to our customer base there are often situations where a continued high demand, pushes us to develop more focused and comprehensive long term solutions.
We have made significant investments over the years into original Xilinx base material both in wafer and finished part form. On top of this we have several ex Xilinx engineers at our disposal, a plethora of original Xilinx hardware and a wide array of custom test programs for Xilinx FPGAs and Memories. All of this results in us being able to offer comprehensive functional verification and pass across significant cost savings to our customer base vs our competitors.
Our range of solutions to Xilinx devices includes Upscreen Verification and characterisation, Die Extraction, Assembly and qualification on top of FPGA to FPGA conversion and ground up product redesign. A specific Xilinx FPGA solutions PDF can be found on the link below.
www.forcetechnologies.co.uk/wp-content/uploads/2016/05/Xilinx-FPGA-Solutions.pdf
Case Study
Here I would like to talk a little more in depth about our FT3000 product range. These are direct replacement to the original XC3000 Logic cell array family and whilst we can offer solutions to all device ranges (from 3020 to 3090) we will be discussing the FT3042 below.
Our customer had a long term requirement for the obsolete XC3042-100PG84B. After residual market material analysis we presented the customer with a few options. Two offerings were selected for further evaluation as both could be supported long term, specifically die extraction/reassembly and product redesign. Project redesign whilst feasible involved a 9-12 month period for first prototypes and then further months for review and production fabrication. The customer ultimately decided this would take too long and selected die extraction/assembly to move forwards with and provide samples.
The die was extracted from our stock of a XC3042 housed in a PQFP package. After the die was cleaned and dressed (more details on the technique can be found here  it was rehoused in a Ceramic Pin Grid Array which met the original Xilinx Footprint.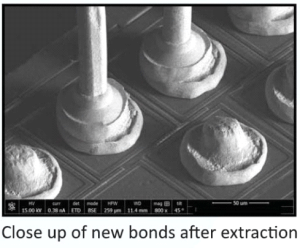 Subsequent environmental testing to Mil-Std 883 M5004 was performed including die shear and bond pulls that meet or exceed the requirements of Mil-Std 883 M5004 B. After sample approval production units were built and tested and the form fit and function FT drop in replacement can now support the customers application for the remainder of its life cycle.
Base material is banked in JEP160 storage conditions ready for extraction and reassembly. FT periodically reviews all of its base material to ensure no degredation of functional performance has occured.
If you have any specific part issue you would like to discuss our staff are always available at Sales@forcetechnologies.co.uk to help resolve your semiconductor obsolescence requirement.